Vietnam eVisa for Italians: Requirements and Processing
Vietnam e-Visa (electronic visa) is an optimal solution for both the Vietnamese travel field and travel lovers from over the world. It eases the burden for the Vietnam Government and reduces the overloading status on customs and immigration. Nowadays, thanks to the visa online system, traveling to Vietnam becomes easier, you do need to go to the embassy or wait for hours, and the entire process is absolutely online.
To get a successful application, in this article, we will share with you Vietnam e-Visa for Italian citizens: the requirements, instructions on applying, and the fees. We hope this content is helpful to your Vietnam trip. Let's investigate!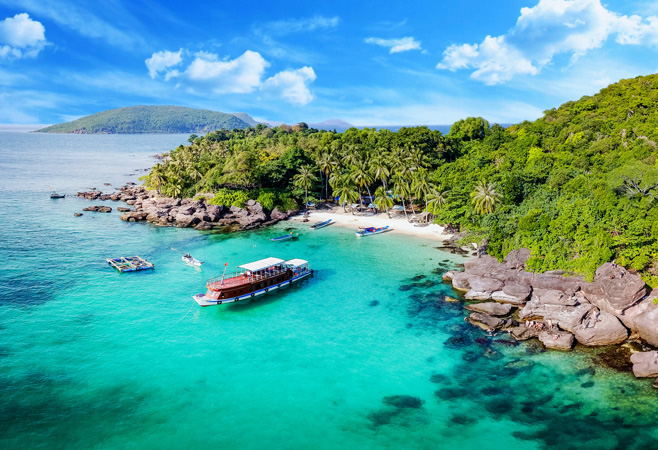 Vietnam e-Visa for Italian citizens
1. About Vietnam Visa for Italians: Regulation and Requirements
Italians belong to the exemption list for Visa to Vietnam within 45 days. That means if you visit for over 45 days, you must apply for a Vietnam visa.
You have 02 visa options: a traditional visa and an electronic visa. We highly suggest you apply for a Vietnam e-Visa because of its convenience and a passport holder from Italy is eligible for Vietnam e-Visa for tourist purposes.
As a rule, the Vietnam e-Visa is valid as a single or multiple entry authorization. Italian citizens apply for a Vietnam e-visa for the following reasons:
Tourist
Business
Conference
Visiting Family, friends, Relatives
Generally, all the Vietnam e-visa is valid for 90 days from the intended arrival date. This visa allows Italian citizens to stay in Vietnam for a maximum period of 90 days in total.
Vietnam visa requirements for Italian citizens
2. How to get a Vietnam e-Visa from Italy - Step-by-step instructions
Check the required documents for the Vietnam visa application
Vietnam e-Visa is valid for up to 80 countries from over the world. This is the best solution for travel lovers who wish to visit Vietnam. By the way, you should be precise about Vietnam visa requirements for Italian citizens:
With a valid Vietnam visa which has 6-month validity from the date of entry.
Have more than 02 blank pages for entry stamps and special notes.
a duplicate of the passport's biographical page (full information, not missing any details or lines).
One passport photo of any size is required - The applicant's face is highlighted in the color photo.
Debit or credit card to make a visa payment
A current email address
Vietnam e-Visa is only launched for eligible countries. If your nationality is not acceptable or your case is not matched to visa requirements such as if you wish to stay in Vietnam longer than 30 days or for other purposes, we highly recommend you apply at the Vietnam Embassy to find an alternative.
Step-by-step instructions on applying for Vietnam e-Visa from Italy
Hopefully, you apply as soon as possible, at least a week before your flight. In the meantime, prepare well all the required documents we presented before. In this part, we will instruct you on how to get a Vietnam e-Visa from Italy. Please click on Apply Visa on the navigation bar and follow the instructions below:
Firstly you must honestly declare the application form online. You have to provide enough information requested such as Full name, Date of birth, Nationality, Address, Passport number, and the intended date to fly to Vietnam.
Secondly, make your visa application payment following the services you choose on our website.
Thirdly, receive an email verifying that your visa application has been submitted. The e-Visa will be processed and approved online before being mailed to you.
Finally, after receiving your Vietnam online visa via email, download and print it. Do not forget to bring your passport and a copy of your e-Visa with you to the airport, you will receive a stamp on your passport. Learn more about step-by-step instructions on how to get Vietnam e-Visa from Italy.
How to get a Vietnam e-Visa from Italy
3. Vietnam e-Visa fees for Italian citizens
Per visa application, Vietnam e-Visa fees for Italian citizens include 02 types of fees: Government fees and Service fees.
The government fees are compulsory and no refund. In addition, You have to pay in advance for application processing time referred to as the service fees. Regarding the payment methods, you can pay via Visa, MasterCard, American Express, PayPal, or wire transfer through the Bank of Cyprus.
We have various processing time visa services and the fee depends on the type of service you choose. Take a look at 03 options we have:
Normal: It is a common option, you can consider. When submitted, your visa will be delivered to you within 03 working days.
Urgent: Your Vietnam e-Visa will be delivered to you within 02 working days
Super Urgent: In case you have no time to wait for responses, this option will help you to save a lot of time. Your e-visa to Vietnam should come in less than 24 hours at the most.
Anyway, we hope you spend time and have a good preparation for your trip. In case the processing time is longer than we expect, kindly be patient, we try our best to support you.
Vietnam e-Visa fees for Italian citizens
Moreover, when we visit a country for a long term, Travel Insurance is necessary for the trip. This is the best way to reduce risks happening accidentally such as sickness, pandemics, trip delays, trip interruption, and lost baggage. You can research more about treatments and benefits at Insurance Information.
We hope you have a successful application and have a wonderful Vietnam trip. If you have any questions related to Vietnam e-Visa for Italian citizens or any service from Vietnam Immigration Services, we are happy to assist you.
HOW CAN WE HELP?
NEED HELP 24/7
Wordwide phone support

How it works ?
APPLY WITH CONFIDENCE
Safety, Fastest, Reliable, Save Time.
Secure Online Payment.
2 Working Days Guarantee.
No Hidden Fees and No Traps.
Money Back Guarantee if Declined.