Ao Dai - The Hidden Beauty In Traditional Vietnamese Dress
By Jenna Jolie
Traveling through Vietnam is an intriguing experience that no doubt travelers should try once in their life. Over the years, the Ao Dai has become a beauty in Vietnamese culture, being an indispensable costume in important events of their country and their nation. If you are planning to explore one of the most beautiful traditional clothing? This article will show you the history of Ao Dai - the traditional Vietnamese dress.
The origin - Why do Vietnamese wear Ao Dai?
When traveling to Vietnam, most travelers will catch sight of people wearing Ao Dai walking around the street. The Ao Dai is a traditional Vietnamese dress or traditional Vietnamese dress wedding that enhances the traditional beauty of Vietnamese women individually and the charm of Asian women generally. This raises a question for them: why do Vietnamese wear Ao Dai and what is the origin of Ao Dai?
Woman in traditional Vietnamese dress
The ao dai has represented Vietnamese femininity for over 300 years. It has changed since then, though. Early in the 1700s, Nguyen Phuc Khoat, a lord who ruled over this region of the nation, gave birth to the unique costume in southern Vietnam. To distinguish the stewards from other courtiers, Lord Nguyen requested that they wear a long gown over their pants while accompanying members of the aristocracy to ritual ceremonies.
Although this is regarded as the beginning of the genuine ao dai, it was influenced by Cham clothing. These were the inhabitants of the Champa, an Indochinese empire that ruled over what is now called southern Vietnam from the second to the seventeenth century. The chiffon costumes worn by the Cham women were long and vibrant. According to legend, Lord Nguyen was trying to win over the Cham people by modeling the Ao Dai after this outfit.
About the question: What is Ao Dai made of? It is a two-piece garment silk dress with long sleeves and flaps that reach the ankles. Each Ao Dai is considered to fit one person alone because it is estimated according to people's body shape and style.
Up to now, Ao Dai has become the traditional costume for women and also for men. For travelers, you can find this traditional costume in some stores on the street in big cities. When travelers return to their home country, Ao Dai can be one of the best souvenirs from Vietnam that you can choose to give to your loved one or keep as a keepsake.
When to wear Ao Dai?
Over the past 100 years, the Vietnamese Ao Dai has had changes. From the Ao Dai which is wide, waistless, and long to the ankles of Vietnamese women to a modern Ao Dai with tighter tailoring, a lower neck, and a shorter front flap and back flap. Seeing this dress, most travelers have questions that pop up in their minds about when to wear Ao Dai.
The ancient-styled of Ao Dai in the eighteenth century
Unlike the traditional costumes of many countries around the world, when wearing ao dai, Vietnamese women do not need to spend much time. It is simple, neat, graceful, and elegant, perhaps that's why Ao Dai has taken a very strong position in the daily life of Vietnamese women in a natural and effortless way. Today, in some departments such as the aviation service industry, it is also easy to find images of Vietnam Airlines crew who are compact in ao dai but are still agile and quick to handle work neatly.
It can be said that the culture of wearing ao dai is increasingly becoming a habit of many Vietnamese women, especially in big cities. In every school, Ao Dai is the compulsory uniform for students on Monday. The design for this type of Ao Dai is typically simple with white color as a symbol of pureness which is also a memorable image during a student's time. The characteristics of the "white school" ao dai are made of stretchy, soft and wrinkle-free silk.
Ao Dai is the student's uniform throughout the century
Besides, Ao Dai is one of the best choices for Vietnamese to wear at their weddings or Tet holidays. You may see the outfit in all its splendor during Tet (Lunar New Year) when people visit friends and relatives and pay respects at temples and shrines. The ideal occasion to wear one's finest áo dài is at a wedding. In Vietnam, the bride and groom would dress in extravagant Ao Dai for the wedding ceremony before the guests arrive.
The bride wearing a traditional Vietnamese dress wedding at a wedding ceremony
In most beauty contests in Vietnam, Ao Dai is always a mandatory part of the contest. Miss Vietnam, when participating in international beauty contests, chooses the Ao Dai as the national costume to perform, because it is difficult to find an outfit that best represents the cultural identity of Vietnam like the Ao Dai.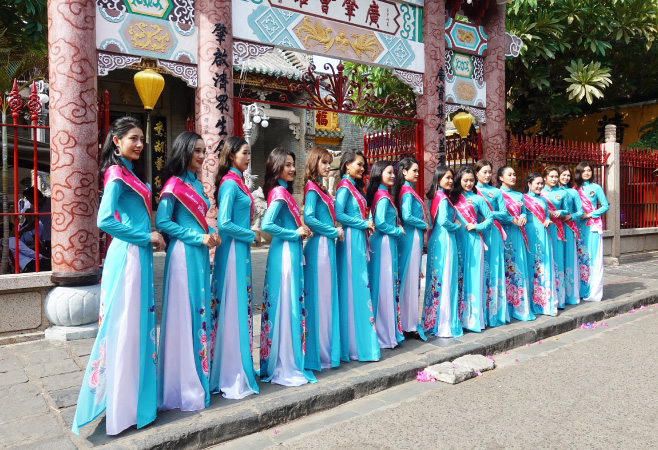 Ao Dai traditional Vietnamese dress appears in beauty contests in Vietnam
This is not only a habit to preserve and develop the traditional cultural values ​​of the nation, but also a widely spread beauty of traditional Vietnamese dress to all travelers around the world when they come to Vietnam. Wearing Ao Dai has become a common thing for Vietnamese people throughout their daily lives. Most tourists who travel to Vietnam are often seen wearing traditional or modern Ao Dai these days.
Where to buy Ao Dai when traveling to Vietnam
Recently, wearing Ao Dai has become a popular tendency for travelers when coming to Vietnam. Ao dai can be designed in your own style and can be found on every corner of Vietnam when considering where to buy Ao Dai. If you want to buy Ao Dai, Vietnam Immigration Services recommend you hand it over to the tailor shop for measurement in order to have the proper size for you. However, foreigners who want to come to Vietnam with a passion for discovering traditional Vietnamese costumes and finding for them a unique Ao Dai, must first apply for a visa to enter Vietnam legally. After completing the form with simple steps, travelers can get an e-visa within a few days. Please check your eligibility for knowing whether your nationality requires an e-visa.
HOW CAN WE HELP?
NEED HELP 24/7
Wordwide phone support

How it works ?
APPLY WITH CONFIDENCE
Safety, Fastest, Reliable, Save Time.
Secure Online Payment.
2 Working Days Guarantee.
No Hidden Fees and No Traps.
Money Back Guarantee if Declined.