Importance of Visas for Traveling to Vietnam: Understanding the Difference Between Visa and Passport
By Stella Tessa
When planning an international trip, understanding the difference between a visa and a passport is crucial. A passport serves as an identification document, while a visa is a travel document issued by the destination country. In the context of traveling to Vietnam, comprehending the importance of visas is essential. This article aims to highlight the significance of visas for traveling to Vietnam, the main functions they serve, the different types available, and the distinction between visa validity and the length of stay. By gaining a thorough understanding of these aspects, travelers can ensure a smooth and successful journey to Vietnam while adhering to all necessary regulations.
Importance of Visas for Traveling to Vietnam 
When visiting Vietnam, having a valid visa is quite extremely important. Most foreign tourists must get a visa before arriving in Vietnam, according to the government's rules. If the required visa is not obtained, admission may be refused or there may be issues while staying. By limiting the time and purpose of visitors' stays in Vietnam, visas ensure that visitors comply with the entrance requirements. For a trouble-free journey, it is crucial to comprehend the significance of visas and to finish the visa application process in advance.
Vietnam is a beautiful nation to travel
Difference Between Visa and Passport
Before delving into the importance of visas for traveling to Vietnam, it's crucial to grasp the distinction between a visa and a passport. A passport is a globally recognized document that serves as proof of identity and nationality, issued by the traveler's home country. It allows individuals to travel internationally and re-enter their home country. In contrast, a visa is an endorsement or stamp placed in the passport by the destination country, granting permission to enter and stay for a specified period.
So do you know how to differentiate between a Passport Book and a Passport Card? 
Main Functions of Travel Visas
Travel visas serve several vital functions for visitors to Vietnam. Firstly, they enable authorities to regulate the entry and exit of travelers, ensuring proper documentation and control over the flow of visitors. By scrutinizing visa applications, the government can screen individuals and identify potential risks, thereby contributing to national security. Additionally, travel visas allow the Vietnamese government to gather visitor statistics, aiding in tourism planning and development.
Importance of visas for traveling to Vietnam
Types of Travel Visas
Vietnam offers various types of travel visas to cater to different purposes and durations of visits. The most common types include tourist visas, business visas, conference visas, and visas for visiting family or friends.
Tourist Visas: Tourist visas are designed for individuals traveling to Vietnam for leisure, sightseeing, or visiting friends and family. They typically have a validity period of 30 days, allowing a single entry into Vietnam. The maximum duration of each stay is also 30 days.
Business Visas: Business visas are intended for individuals engaging in commercial activities such as attending conferences, and meetings, or exploring business opportunities in Vietnam. They may have longer durations compared to tourist visas and usually require additional documentation, such as an invitation letter from a Vietnamese company.
Conference Visas: Conference visas are issued to individuals attending conferences, seminars, or workshops in Vietnam. They allow participants to stay in the country for the duration of the conference.
Visas for Visiting Family or Friends: This type of visa is designed for individuals visiting their relatives or friends in Vietnam. It allows for a single entry with a maximum stay of 30 days.
Check the International Vietnam Airport's location, name, IATA code, ICAO code, and details regarding Vietnam's visa policy through Vietnam Airport - List Of All The International Terminals In Vietnam.
Vietnam offers various types of travel visas
Difference Between Visa Validity and Length of Stay
Understanding the difference between visa validity and the length of stay is crucial for travelers to Vietnam. Visa validity refers to the period during which the visa is considered valid for entry into Vietnam. It is typically expressed as a start date and an end date. Travelers must enter Vietnam within the specified period, as failure to do so renders the visa invalid.
On the other hand, the length of stay refers to the duration visitors are allowed to remain in Vietnam after entering the country. The length of stay is determined by the Vietnamese immigration authorities upon arrival and is usually mentioned on the visa or stamped in the passport. It is important to adhere to the specified length of stay to avoid any legal consequences. Overstaying the permitted duration can result in fines, deportation, or restrictions on future visits to Vietnam.
Airports in Vietnam
Obtaining the right visa is a critical aspect of planning an unforgettable trip to Vietnam. Understanding the difference between a visa and a passport, as well as the importance of visas for traveling to Vietnam, is essential for a smooth and trouble-free journey. The main functions of travel visas, such as regulating entry and exit, contributing to national security, and aiding in tourism planning, highlight their significance in ensuring a well-managed and secure travel environment. It is vital to research and fulfill the specific visa requirements based on nationality and the purpose of the visit.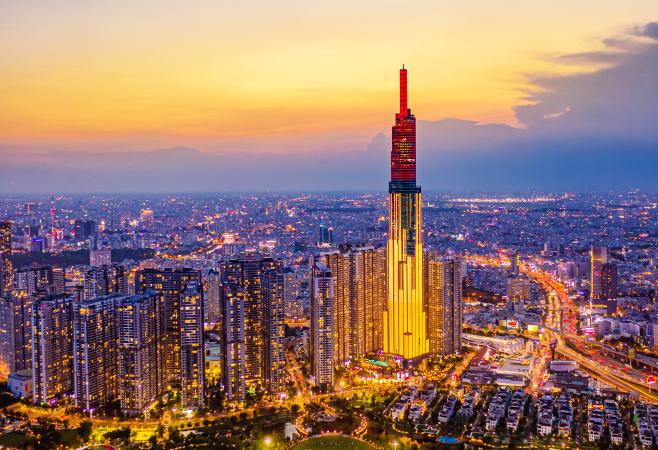 Vietnam is the best for traveling
To facilitate the visa application process and take advantage of numerous benefits, travelers are encouraged to apply for a visa online through Vietnam Immigration Services. Applying online offers convenience saves time, and provides an efficient way to handle the necessary paperwork. With the user-friendly online platform, applicants can complete the visa application from the comfort of their homes, eliminating the need for in-person visits to embassies or consulates.
Moreover, the Vietnam Immigration Services' online system often expedites processing times, allowing travelers to obtain their visas swiftly and effortlessly. The platform also provides valuable support and guidance throughout the application process, ensuring that all requirements are met correctly.
So, if you're planning an exciting journey to Vietnam, take advantage of Vietnam Immigration Services' online visa application platform. Apply now and experience the ease and efficiency of obtaining your visa online. Don't miss the opportunity to explore the beauty and culture of Vietnam while adhering to all necessary regulations. Embark on your adventure with confidence and peace of mind by securing your visa through Vietnam Immigration Services today!
HOW CAN WE HELP?
NEED HELP 24/7
Wordwide phone support

How it works ?
APPLY WITH CONFIDENCE
Safety, Fastest, Reliable, Save Time.
Secure Online Payment.
2 Working Days Guarantee.
No Hidden Fees and No Traps.
Money Back Guarantee if Declined.