The Most Delicious And Distinctive Tropica Vietnamese Fruit
By Stella Tessa
Vietnam is undoubtedly a fruit lover's paradise because of its physical location in the tropical region. A visitor to the nation for the first time will be astounded by the profusion of colorful fruits available throughout the year in every market and on every street for a very affordable price. One of the things that draw travelers back time and time again is the opportunity to sample various exotic fruits. 
Typically, Dalat and other hilly places in the Central and Northern regions are the sources of fruits from cooler climes. Since fruits are readily available and reasonably priced in Vietnam, the Vietnamese are highly inventive when it comes to savoring this natural delicacy. While some people prefer to eat their harvest fresh, others choose to season their unripe or sour fruits with salt, pepper, or chili flakes. Vietnamese fruits can be turned into savory main dishes, tea, jam, wine, and more, in addition to nutritious smoothies and juices.
Embark on a magical journey as we explore the alluring world of Vietnamese fruits. Join us as we explore 10 delectable fruits you simply must try in order to experience true culinary ecstasy.
10 Must-Try Vietnamese Fruits
The opportunity to sample several exotic fruits is one of the greatest pleasures of traveling to a tropical nation like Vietnam. Travelers would typically stick to the standard fruits, but it would be exciting to try some of the more uncommon fruits in the tropical nation.
Here are some Vietnamese fruits you should try if you travel to Vietnam.
Dragon Fruit (Thanh Long)
As you traverse Vietnam's fruit markets, one fruit that stands out with its vibrant hues and refreshing taste is the dragon fruit. This exotic delight boasts stunning pink or yellow outer skin adorned with scales resembling a mythical dragon. Slicing open the fruit reveals succulent, mildly sweet flesh speckled with tiny black seeds. 
Dragon fruit is not only visually appealing but also a powerhouse of nutrients and antioxidants, making it a popular choice among health-conscious travelers. To fully experience the allure of this tropical treasure, venture into the Mekong Delta region, where vast dragon fruit plantations stretch as far as the eye can see. 
Let's engage in a dragon fruit farm tour, witnessing the cultivation process and savoring the fruit at its freshest. Don't forget to capture Instagram-worthy shots amidst the striking dragon fruit orchards, immersing yourself in the magical ambiance of this remarkable fruit.
Dragon Fruit
Mangosteen (Mang Cut)
Prepare to be captivated by the "queen of fruits", the mangosteen, as you journey through Vietnam. Nestled within a thick, purple rind lies a treasure trove of juicy, snow-white flesh with an exquisite flavor. With a delightful balance of tanginess and sweetness reminiscent of citrus, mangosteen is a tropical delight that entices your taste buds. 
Indulge in this tropical gem while exploring the bustling streets of Ho Chi Minh City or Hanoi, where street vendors skillfully peel the fruit, offering small morsels of heaven to passersby. For an immersive experience, visit the Mekong Delta during the mangosteen season, typically from May to July, and relish the opportunity to taste this succulent fruit at its peak. With its numerous health benefits, including antioxidants and anti-inflammatory properties, mangosteen is not only a culinary delight but also a nourishing treat for your body.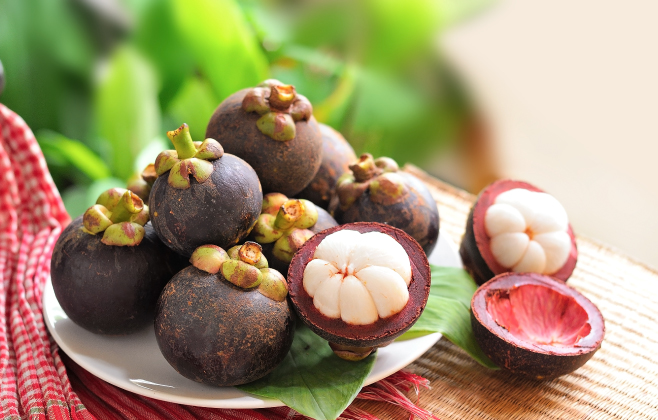 Mangosteen or  "queen of fruits"
Durian (Sau Rieng)
As you encounter the fabled "king of fruits", durian, get ready for a special sensory experience. This tropical delicacy is not for the weak of the heart because of its infamously potent perfume and contentious reputation. 
You'll find a slice of velvety, custard-like meat that is thick and creamy after getting over its strong aroma. In Vietnam, durian is a fruit that is adored by both locals and daring tourists because to its varied flavors that range from sweet to salty. Visit Vietnam's southern area, where durian orchards are abundant, to truly experience this mysterious fruit. 
Engage in durian tasting sessions with the assistance of professional farmers who will explain the subtle differences between various durian kinds. Take part in culinary excursions with a durian theme to experience the fruit's versatility firsthand, from smoothies with creaminess to pastries with the fruit's flavor. Unleash your adventurous side and let durian overpower your taste buds in the midst of Vietnam's tropical environment.
Durian (Sau Rieng)
Jackfruit (Mit)
Venture into the heart of Vietnam's lush landscapes, and you'll discover the majestic jackfruit, the largest fruit that grows on trees. Its massive size, distinct aroma, and versatile nature make it a treasure trove for culinary enthusiasts. Jackfruit's sweet and fibrous flesh, reminiscent of a fusion of banana, mango, and pineapple, lends itself to a myriad of dishes. 
Discover the neighborhood street markets where vendors skillfully slice open jackfruits to release the enticing perfume that hangs in the air. Join a cooking class to learn how to incorporate jackfruit into classic Vietnamese dishes like jackfruit curry or sweets using jackfruit as the main ingredient for a really immersive experience. Instead, go on a rural journey to see jackfruit being harvested and interact with local farmers who will impart their knowledge on this extraordinary fruit. Your culinary tour across Vietnam will never be the same without jackfruit's exotic charm and exquisite flavor.
Jackfruit (Mit) 
Pomelo (Buoi)
When it comes to citrus fruits, the pomelo takes center stage in Vietnam's fruit paradise. Resembling a larger version of a grapefruit, this citrus delight boasts a thick, greenish-yellow rind that encases juicy, sweet-tart flesh. From slightly acidic to mildly sweet, the flavor profile varies depending on the pomelo variety. While you can savor pomelos on their own, the true essence of this fruit shines through when it is incorporated into refreshing salads and invigorating juices. 
As you explore the vibrant city of Da Nang or the picturesque town of Hoi An, visit local fruit markets and let the vibrant colors and fragrant aroma of pomelos entice you. During the Vietnamese Lunar New Year (Tet), pomelos hold special significance and are considered symbols of luck and prosperity. Take part in pomelo traditions, such as giving pomelos as presents or eating food with pomegranate flavors during Tet celebrations, to get into the holiday mood.
Pomelo (Buoi)
Rambutan (Chom Chom)
As you walk through the Vietnamese fruit marketplaces, get ready to be fascinated by the rambutan's eye-catching appearance. This unique fruit is characterized by its hairy exterior, resembling a sea urchin. Upon peeling the spiky shell, you'll reveal a translucent, juicy flesh that offers a delightful combination of sweetness and slight acidity. 
Native to Southeast Asia, rambutan is a tropical delight that is commonly enjoyed as a refreshing snack. As you wander through vibrant markets in Ho Chi Minh City's District 5 or Hanoi's Old Quarter, street vendors will entice you with their skillful peeling techniques, offering a taste of this tropical gem. For a truly immersive experience, venture into the countryside, where rambutan orchards flourish. Engage with local farmers and witness the rambutan harvest, gaining insight into the cultivation process and the significance of this fruit in Vietnamese culture.
Enjoy the captivating natural beauty, lush landscapes, and vibrant cultural heritage of the Mekong Delta Vietnam through Immersing In The Rich Heritage Of The Mekong Delta Vietnam
Rambutan is a tropical delight in Vietnam
Longan (Nhan)
The longan, also called the "dragon eye fruit", is a small, round fruit with a thin, brownish shell. Once opened, its translucent flesh reveals a succulent, juicy texture, offering a sweet and aromatic flavor similar to lychee. The longan is commonly enjoyed fresh or used in desserts, refreshing beverages, and sweet soups. To experience the essence of this fruit, head to the northern regions of Vietnam, such as Bac Giang or Hai Duong, where longan orchards flourish. 
Engage in farm visits during the longan season, typically from June to August, and immerse yourself in the traditional harvesting methods passed down through generations. As you savor the fresh longans under the shade of ancient longan trees, you'll truly understand why this fruit holds such cultural significance in Vietnam.
The longan, also called the "dragon eye fruit" in Vietnamese
Sapodilla (Sa Po)
Prepare your taste buds for a delectable adventure with the sapodilla, known as "Sa Po" in Vietnamese. This brown, scrumptiously sweet fruit features a grainy texture reminiscent of a caramel confection. As you wander through local markets, the enticing aroma of ripe sapodillas will beckon you to taste this exquisite delicacy. Indulge in the fruit on its own, reveling in its rich, honey-like sweetness. 
Alternatively, experience the versatility of sapodilla by enjoying it as a topping for ice cream or incorporating it into refreshing fruit salads. To fully appreciate the beauty of sapodilla cultivation, venture to the southern regions of Vietnam, such as Ben Tre or Can Tho, where vast orchards thrive. Engage in immersive farm tours, where local farmers will guide you through the harvesting process, sharing stories and secrets about this treasured fruit.
Sapodilla is a native fruit in Vietnam
Custard Apple (Na)
The custard apple, or "na" as it is known in Vietnamese, will fascinate you. This green, heart-shaped fruit has a scaly skin that hides a wealth of creamy, sweet-tangy flesh inside. You'll come across street vendors deftly peeling custard apples as they serve bite-sized bits of delight as you stroll through the busy streets of Hue or the bustling marketplaces of Nha Trang. 
Custard apple is popularly consumed fresh or added to smoothies, milkshakes, and decadent desserts because of its velvety texture and pleasant flavor. To deepen your connection with this tropical delight, visit the Mekong Delta region, where custard apple orchards thrive. Engage in orchard tours, which allow you to witness the cultivation process and gain a deeper appreciation for the custard apple's significance in Vietnamese cuisine and culture. Let the creamy sweetness of custard apple transport you to a tropical paradise.
The custard apple, or "na" as it is known in Vietnamese
Star Apple (Vu Sua)
Concluding our fruit journey through Vietnam is the star apple, or "vu sua" in Vietnamese. This unique fruit showcases a striking purple-brown skin that, when sliced open, reveals a star-shaped pattern on the creamy, sweet pulp. Known for its milky taste and subtle hints of vanilla, the star apple is a beloved fruit in Vietnam. Enjoy it fresh, savoring each luscious bite, or incorporate it into vibrant fruit salads for a burst of flavor and visual appeal. 
As you explore the vibrant markets of Can Tho or Vinh Long in the Mekong Delta, the alluring aroma of ripe star apples will guide you to their delectable presence. Let this stellar fruit leave an indelible mark on your taste buds, creating lasting memories of your fruit-filled adventure through Vietnam.
Do you love Vietnamese desserts, do not pass over the Top 10 Traditional Vietnamese Desserts you must try
Star Apple in Vietnam
Embarking on a journey through a vibrant  Vietnamese fruit paradise is an experience that lingers in your memory. To make your adventure even more seamless and enjoyable, take advantage of the best online visa service available. The Vietnam Immigration Services website is your one-stop solution for hassle-free visa applications, offering convenience, confidence, and significant savings of both time and money. With their user-friendly platform, you can easily apply for your visa, ensuring a smooth entry into Vietnam.
Don't let paperwork and visa complications hinder your fruit-filled exploration. Trust the Vietnam Immigration Services website to handle your visa application professionally and securely, leaving you with peace of mind and more time to immerse yourself in the captivating flavors and enchanting landscapes of Vietnam. Apply now and unlock the gateway to an unforgettable journey through Vietnam's bountiful fruit paradise!
HOW CAN WE HELP?
NEED HELP 24/7
Wordwide phone support

How it works ?
APPLY WITH CONFIDENCE
Safety, Fastest, Reliable, Save Time.
Secure Online Payment.
2 Working Days Guarantee.
No Hidden Fees and No Traps.
Money Back Guarantee if Declined.