Vietnamese cuisine discovery: Get a tour of the best restaurants in Vietnam
By Jenna Jolie
The unique aromas and flavors of Vietnam picked off skewers and slurped from bowls, can be found anywhere from the crowded booths of the street markets to the hushed dining rooms of five-star hotels. They have a way of conveying an immediate connection to the culture of the nation. Vietnamese food is distinctively different from other cuisines in that it contains the ideal balance of sweet, spicy, salty, and sour.
So, if you're currently planning to travel abroad, think about traveling to Vietnam. Read over our list of the best restaurants in Vietnam to find out where you should eat after you get to the country.
Top 05 famous restaurants in Vietnam you must try
Vietnam is undeniably one of the top culinary destinations in the world, known for its distinctive and lively flavors. The recognition that Vietnamese cuisine merits are increasingly being given. In fact, even the first generation of young people is helping to bring about a small rebirth for Vietnamese cuisine. This guide below may assist you in choosing the ideal restaurant if you have ever considered your vacation preferences in Asia while seeking a taste of the local Vietnamese cuisine. The top 5 best restaurants in Vietnam are listed below.
1. Cuc Gach Quan ( The Brick restaurant)
Cuc Gach Quan is the best restaurant in Vietnam
Cuc Gach Quan was initially an internationally recognized venue whose design was influenced by the owner's grandmother's traditional family meals during her childhood. With a vintage mansion draped in blooming bougainvillea, there is also a quaint family restaurant hidden away. This is hearty Vietnamese comfort food prepared with love and passion, served in a comfortable jumble of rustic wooden furniture that clashes with the koi pond and patches of greenery. Every little thing in the restaurant, including the tables, chairs, bowls, and flowerpots, has been repurposed from old pieces of furniture and recycled materials, giving it a unique rustic appearance.
Cuc Gach Quan also provides traditional Northern and Central dishes, all in keeping with the restaurant's "green, healthy" theme. Customers keep returning because of the food's authenticity and freshness, which are unadulterated. Cuc Gach Quan is the best restaurant in Sai Gon, Vietnam for those interested in authentic cuisine.
Address: 10 Dang Tat, Tan Dinh Ward, District 1, HCMC, Vietnam
2. SH Garden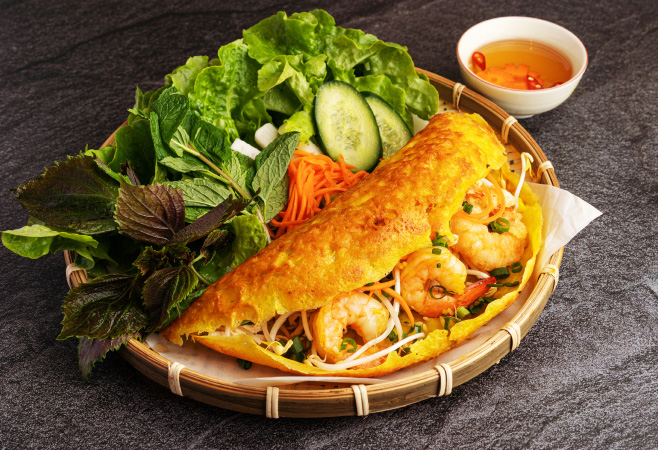 SH Garden is known as a famous restaurants in Vietnam
One of the most popular Saigon restaurants in Vietnam, SH Garden, is recognized for its cuisine that honors the nation's palates, from North to South. It also has impressive views over a charming area of the city. A short distance from the Opera House, it is perched atop a beautiful colonial structure at the intersection of Nguyen Hue and Le Loi streets and offers breathtaking views of the neighborhood. Other colonial buildings can be found nearby. Son and Ha are the namesakes of the eatery, which offers home-style cooking rather than competing with the city's more expensive eating options. Every incredible culture of the Vietnamese people is gathered by SH Garden and presented to guests through flavor, space, and emotion.
Address: 98 Nguyen Hue, Ben Nghe, District 1, HCMC, Vietnam
3. Sea Shell by Nu Eatery
Sea Shell is famous among the top restaurants in Vietnam
Known as one of the top restaurants in Vietnam, Sea Shell pushes the boundaries of traditional Vietnamese cuisine. The straightforward creativity of this eatery is outstanding throughout.
Sea Shell has a cult following and is a very well-liked travel destination. Since its establishment in 2015, Sea Shell's superb contemporary Asian meals have been a tremendous success. In the center of Hoi An Ancient Town, close to the Japanese Bridge, this frequently crowded restaurant offers meals using premium, fresh ingredients. Located on An Bang Beach, north of Hoi An, it is a carefully restored fisherman's home. The main area of town, the light blue exterior of the building, hefty wooden tables, eclectic-style benches that aren't matched, potted plants throughout the entire indoor dining space, and outdoor gardens all contribute to the homey, relaxed ambiance. Tempura shrimp rolls, a few salads and soups, and appetizers like Sea Shell's renowned baguettes are all included on the limited menu. In this place, desserts are also a must.
Address: 119 Tran Cao Van, Minh An Ward, Hoi An, Quang Nam, Vietnam
4. Nen Restaurant
Nen Restaurant is among the top restaurants in Vietnam
While Ho Chi Minh City and Hanoi are at the forefront of modern Vietnamese cuisine, Da Nang's youthful chefs are quietly experimenting with new culinary approaches. Nen Restaurant, which takes its name from the little tuber that lies between a shallot and a garlic bulb, has drawn plaudits for its excellent modern Vietnamese food. Summer Le, a local chef, and blogger is passionate about using Vietnamese ingredients, and it shows in her garden restaurant, which offers experimental deodorant menu items made from organic goods.
Nen is known as one of the top Da Nang restaurants in Vietnam that have a variety of creative dishes. The restaurant offers three cuisine options for just a few hundred thousand per person: New Vietnamese, Exquisite Vietnamese, and Green Vietnamese. The menu will likely include delicacies like Quang noodles with Vietnamese pesto sauce, clams, kumquat foam, and crispy tofu shells; steamed squid with fish sauce, ginger, mango, and fresh coconut; and the more daring young jackfruit curry. Each tasting meal includes desserts that are pretty creatively prepared. Using silken tofu pudding, ginger syrup, and homemade ginger ice cream makes for an exceptional dessert.
Address: 16 My Da Tay 2, Nhu Hanh Son, Danang, Vietnam
Make deep research on Vietnamese cuisine flavor with How Regional Diversity Shapes The Vietnamese Cuisine Flavors
5. Mango Mango Restaurant
Mango Restaurant is one of five famous restaurants in Vietnam
Mango Restaurant, a vibrant eatery with a lively, adventurous menu and a broad selection of signature cocktails, is a member of Chef Duc's renowned Mango Group, which consists of five restaurants in Vietnam (specifically in Hoi An), each with its own spin on Vietnamese cuisine. In 2008, he opened Mango Mango Restaurant as an addition to Mango Rooms, his first eatery in Hoi An. Despite the similarity in appearance, the menu and distinctive environment make the food stand out. It's simple to understand why when you come into the restaurant. A bamboo tunnel with gentle, colorful lighting and wooden fish decorations creates the appearance of an ocean.
The restaurant is a well-liked place in Vietnam for dinner among tourists and residents alike and is situated along the serene Thu Bon River, close to the lantern bridge and night market. Furthermore, Mango Mango is the place to be if you're looking for a fun and exciting atmosphere. The island of An Hoi, which lies right across the river from the Old Town, is renowned for having the best time. The extensive cocktail menu, which features a lot of the locally-sourced fresh flavors, is constantly changing. As a result, each visit provides guests with an exceptional chance to sample something unique. The cuisine, though inventive, consistently ranks as some of the best served at Hoi An's specialty eateries. Whether you're in town for a day or more, Mango Mango Restaurant is the ideal place to spend a night with old and new acquaintances.
Address: 45 Nguyen Phuc Chu Street, Hoi An, Vietnam
Something may be helpful for your trip to Vietnam
Mother Nature blesses Vietnam with a long, narrow landform that is home to a variety of stunning scenery. The amazing history, many cultures, and delectable cuisine of the Vietnamese add to how unique they are. Therefore, it makes a great vacation spot for foreign tourists, especially foodies. The range of options for where to travel in Vietnam and what best restaurants in Vietnam will suit any visitor's aims and budget.
Are you prepared to visit Vietnam? Choose a Vietnam visa from Vietnam Immigration Services and explore the landmarks as well as the culinary culture of this S-shaped country. Last but not least, Travel Insurance may enable you to avert unexpected occurrences once you are in a new land.
Please contact us if you have a travel arrangement in Vietnam. We will always support you to the best!
HOW CAN WE HELP?
NEED HELP 24/7
Wordwide phone support

How it works ?
APPLY WITH CONFIDENCE
Safety, Fastest, Reliable, Save Time.
Secure Online Payment.
2 Working Days Guarantee.
No Hidden Fees and No Traps.
Money Back Guarantee if Declined.