The Timeless Charm of Vietnamese Traditional Instruments
By Stella Tessa
The melodic strains of Vietnamese music are a treasure trove of cultural legacy that has been passed down from generation to generation. Each traditional instrument represents a distinct tonal element that is profoundly ingrained in Vietnamese culture, and together they make up the very soul of this fascinating music. With a history that stretches back centuries, these instruments have played an instrumental role in shaping the cultural identity of the Vietnamese people.
The social and religious fabric of Vietnam is woven with cultural symbols, including traditional Vietnamese instruments, which are more than just musical tools. Their sublime melodies boost the spirit and unite people in harmony at festivals, celebrations, and other occasions during which they play a key role.
Furthermore, despite these instruments' long history, people continue to find them appealing nowadays. Modern musicians are still pushing the limits of traditional music by incorporating cutting-edge styles and methods into these instruments to produce hypnotic fusions of traditional and modern music.
Travel back in time with us as we explore the vibrant history of Vietnamese traditional instruments, tracing their development through various cultural and historical influences. Discover how these instruments have evolved over time, adapting to changing times while still holding steadfast to their traditional roots.
Join us on this musical odyssey as we immerse ourselves in the rich and diverse world of traditional instruments in Vietnam, where the past and present come together in perfect harmony.
History And Development Of Vietnamese Traditional Instruments
The history of Vietnamese traditional instruments dates back over 2,000 years to the Dong Son culture. Bronze instruments were utilized for religious and ceremonial purposes during this time. Afterward, new instruments with Chinese influences—such as the pipa and guzheng—were imported and gradually modified to fit Vietnamese music. As a result, the Dan Tranh, a zither with 16 strings and moveable bridges, was created. It has since grown to be one of the most recognizable traditional instruments in Vietnamese music.
In the 19th century, during the Nguyen dynasty, Vietnamese music underwent a period of transformation and modernization. The court music was enriched with new musical styles and new instruments, such as the Dan Nguyet, a two-stringed lute with a crescent-shaped body. The French colonial period also had a significant impact on Vietnamese music, introducing Western instruments like the violin and guitar into traditional Vietnamese music.
Despite these changes, traditional Vietnamese musical instruments have persisted as an essential component of Vietnamese identity and culture. They frequently appear in celebrations, rituals, and other significant occasions, and they are essential for uniting local communities and preserving cultural traditions.
A set of traditional Vietnam musical instruments
Types Of Vietnamese Traditional Instruments
As the heart and soul of Vietnamese music, traditional instruments come in a variety of types, each with its own distinct personality and signature sound. Here are some of the most popular and iconic instruments that have helped to shape the unique melodies of Vietnam:
The Dan Tranh (also known as a zither) is a long, horizontally played, flat-stringed instrument with moveable bridges that enable the player to alter the pitch of each string. It is a staple of traditional Vietnamese ensembles and one of the most recognizable instruments in the country's music. It contains 16–18 strings, which the performer plays by plucking with picks on their fingers. It creates a quiet, complex sound that is frequently referred to as "ethereal."
Dan Bau (monochord) – The pitch of the Dan Bau is adjusted by bending the bamboo rod that supports the string. It is a one-stringed instrument played vertically. Additionally, the musician dampens the string with their left hand to produce different pitches. The instrument has a distinct and melancholy sound, and it is frequently used to accompany folk tunes and ballads.
Dan Nhi (two-string fiddle) - The Dan Nhi is a two-string bowed string instrument with a small soundbox. It is commonly played by bowing the strings with a horsehair bow in traditional musical ensembles. As a complement to other instruments in an ensemble, it frequently generates a bright, vibrant sound.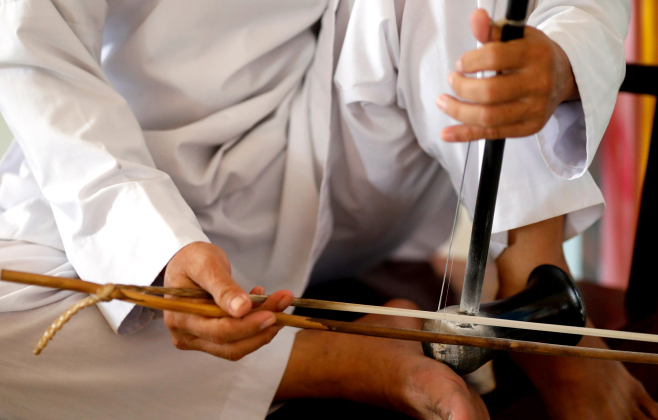 A Vietnamese man playing a Dan Nhi (Dan Co) a two-stringed musical instrument
The Dan Nguyet (moon lute) is a two-stringed instrument with a curved body that resembles a crescent moon. It is a plucked instrument that is frequently played in chamber and operatic music in Vietnam. Its smooth, comforting sound is believed to conjure up images of a tranquil moonlit night.
Sao (bamboo flute): The Sao is a straightforward bamboo instrument that emits a loud, high-pitched sound. By blowing air across the top of the open end of the instrument, it is frequently utilized in folk music. The musician can alter their pitch by changing the angle of their lips and by concealing and exposing their finger holes.
Trong (drum) - The Trong is a percussion instrument that can be played with sticks or hands and is made of metal or wood. It has a tendency to provide a rhythmic backbone to traditional music and is an integral component of many ensembles.
Ken (horn) - The Ken is a buzzing wind instrument that can be made of bamboo or brass. The instrument is played by blowing air into it and vibrating the lips to create sound, and it is frequently employed in ceremonial music. By covering and exposing the finger holes with their fingers, the musician can alter the pitch.
The Dan Day (four-string lute) Dan Day is a pear-shaped, plucked instrument with a long neck. It appears to accompany folk tunes and ballads and is played by plucking the strings with a plectrum. It has a warm, rich sound and is widely used to elicit feelings and express a song's message.
You are interested in traditional Vietnamese musical culture, do not ignore Top Festivals In Vietnam That Travelers Should Add On The Bucket List
Cultural Significance Of Vietnamese Traditional Instruments
Vietnamese traditional music has embraced change and evolution over time, allowing it to remain relevant and exciting even in modern times. Contemporary musicians have taken traditional instruments to new heights, blending them with modern styles and technology to create innovative sounds and musical expressions.
Artists like Thanh Lam and Trinh Cong Son, for instance, have merged traditional Vietnamese music with Western pop and jazz to create a harmonic fusion that has captured audiences' hearts both in Vietnam and around the world. While others have adopted a more innovative strategy, enhancing traditional music and introducing it to new audiences through the use of electronic music and other cutting-edge components.
Dong Bang Zephyr is a band that has gained notoriety for its singular mix of traditional Vietnamese music with jazz, rock, and hip-hop, and they serve as prime examples. As evidence of the enormous adaptability and variety of traditional Vietnamese instruments, their inventive music has gained a following from all over the world.
Why don't you explore more about Vietnamese culture and traditions with Vietnamese Water Puppetry: An Ancient Tradition In A Modern World
The evocative melodies of traditional instruments may soon vanish into silence as the winds of modernization and globalization blow across Vietnam, which is an increasing source of anxiety. However, the spirit of preservation and promotion continues to be strong as both public and private initiatives take on the responsibility of preserving this valuable cultural asset.
Vietnamese is playing traditional instruments in the flooded forest
In Vietnam, music schools and ensembles receive support from the government, alongside private institutions such as the Vietnam National Academy of Music, that offer a range of courses and workshops on traditional music and instruments. Beyond Vietnam's boundaries, the effort is still being made on preservation and marketing. Through conferences, seminars, and joint study, international organizations like the International Council for Traditional Music (ICTM) have taken up the cause and are working relentlessly to preserve the musical traditions of Vietnam and other nations. Through these initiatives, traditional Vietnamese music and instruments will be able to continue to have a powerful and beautiful impact on people for many years to come.
Visitors to Vietnam who are interested in experiencing the beauty and richness of Vietnamese traditional instruments should also keep in mind the necessary visa requirements and travel insurance. Fortunately, applying for a visa to Vietnam has never been easier thanks to Vietnam Immigration Services.
If you're planning a trip to Vietnam, make sure to familiarize yourself with visa requirements and travel insurance. Applying for a visa online quickly on Vietnam Immigration Services is a great way to save time and money while ensuring a smooth and hassle-free travel experience. By supporting and guiding traditional Vietnamese instruments and music, we can help ensure you can travel confidently and fully immerse yourself in the beauty and wonder of Vietnam. Don't hesitate to apply today!
HOW CAN WE HELP?
NEED HELP 24/7
Wordwide phone support

How it works ?
APPLY WITH CONFIDENCE
Safety, Fastest, Reliable, Save Time.
Secure Online Payment.
2 Working Days Guarantee.
No Hidden Fees and No Traps.
Money Back Guarantee if Declined.