Kayaking Destinations In Vietnam - Expose The Beauty Through Paddling
By Mabel Collins
Vietnam is an Asian country with numerous rivers as well as diverse and unique natural environments. As a result, the country provides tourists with a variety of river and lake activities, such as elegant cruises, canoeing, rowing, basket boat, kayaking, etc. Among these, kayaking is the most popular type that perfectly blends tourism and sport, allowing tourists to enjoy the scenery at their own leisure.
With its stunning coastlines, emerald waters, and hidden gems, Vietnam offers kayaking enthusiasts a diverse range of destinations to explore. In this article, we will take you on a virtual journey to some of the top kayaking destinations in Vietnam.
Ha Long Bay - Quang Ninh
Halong Bay is consistently ranked as a top 1 destination for travelers exploring Vietnam. It holds UNESCO recognition as a world heritage site due to its remarkable geological features, geomorphology, and stunning natural vistas. Ha Long Bay, along with the neighboring Bai Tu Long Bay, presents an undeniable allure that should not be missed when compiling your Vietnam travel bucket list.
No exploration of Vietnam's kayaking scene would be complete without mentioning Ha Long Bay. This wonder boasts over 1,600 limestone karsts and islands, creating a truly magical setting. 
Paddling through the calm waters, visitors are treated to awe-inspiring views of towering cliffs, hidden caves, and floating villages. One can also delve deeper into the bay's mystique by exploring hidden lagoons and picturesque beaches accessible only by kayak.
Ha Long Bay
Phong Nha - Ke Bang National Park - Quang Binh
Located in central Vietnam, Phong Nha-Ke Bang National Park is a UNESCO World Heritage, which is a beloved kayaking spot among both local and international travelers. Boasting a diverse landscape featuring magnificent caves, pristine blue rivers and streams, towering mountains, and lush forests, this destination offers an idyllic setting for visitors to unwind and immerse themselves in the breathtaking natural beauty that the province of Quang Binh has been blessed with. 
Kayaking along the Son River, visitors can marvel at the park's breathtaking landscapes, limestone cliffs, and lush vegetation. The highlight of any kayaking adventure here is exploring the Phong Nha Cave, one of the largest caves in the world. Paddling through the cave's mystical chambers, adorned with impressive stalactites and stalagmites, is an unforgettable experience.
Fill out your travel adventure diary with the incredible natural beauty of Phong Nha - Ke Bang National Park. Let's investigate through Into The Depths of Wonder: Phong Nha - Ke Bang National Park Exploration
Kayaking in Phong Nha Ke Bang
Nho Que River - Tu San Valley - Ha Giang
Being a tributary of the Gam River - the Nho Que River is one of the most well-known sights in Ha Giang, a destination in Vietnam's hilly northeast. A journey to Ha Giang would be incomplete without a trek down the Nho Que River and over the Tu San Canyon, a natural marvel with two rocky walls.  
The Nho Que River's powerful currents have formed several rapids and waterfalls concealed in the valley's mists. They all create an ink-wash picture, complete with beautiful patterns of mountains and craggy rocks engulfed in the turquoise waters of that romantic river. Visitors will witness a stunning limestone alley and enjoy the fresh and crisp air while kayaking along the jade-green Nho Que River.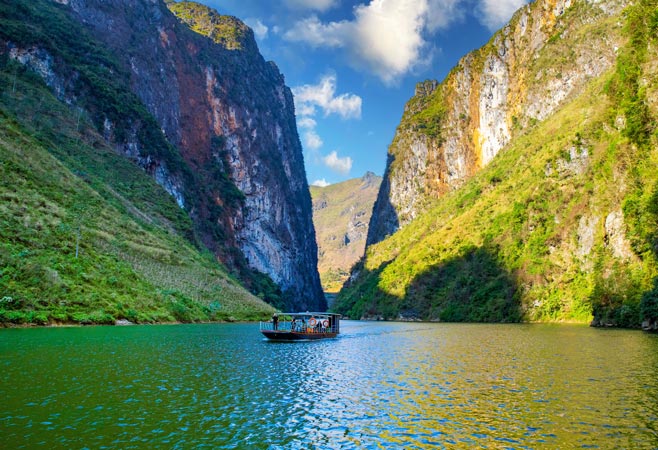 Nho Que River
Ba Be Lake - Bac Kan
Kayaking in Ba Be Lake offers a magical and immersive experience in the heart of Vietnam's northern region. Nestled within Ba Be National Park, this serene lake is the largest natural freshwater lake in the country, encompassing a vast expanse of shimmering waters and verdant landscapes. 
As you embark on your kayaking adventure, you'll be captivated by the tranquil atmosphere and the mirror-like reflections of surrounding limestone mountains on the lake's surface. Paddling through the calm waters, you can explore hidden caves, such as Puong Cave, adorned with stunning stalactites and stalagmites. Ba Be Lake will be one of the best options for kayaking destinations in Vietnam; nothing beats relaxing in this wonderful lake, where we can escape the hustle and bustle of the city. 
Ba Be Lake 
Bai Sao Beach
Phu Quoc Island stands as another captivating destination for kayaking that often goes unnoticed by many. This coastal haven is bestowed with natural beauty, featuring untouched islands, crystalline azure waters, and stretches of endless white sandy beaches.
Situated off the southwestern coast of Vietnam, Phu Quoc Island beckons with its white sandy beaches and turquoise waters. Beyond its stunning beaches, the island offers kayaking adventures around its coastline and surrounding smaller islands. 
Under the sun of the warm afternoon, visitors may paddle out to the center of the blue sea, listen to the murmuring waves, and watch the sunset fall. When you are surrounded by just white sand and vast saltwater, you will feel at one with nature, temporarily forgetting the hustle and bustle of the city.
Chay River - Dark Cave - Quang Binh
Kayaking in the Chay River and Dark Cave offers an exhilarating and unforgettable adventure in Vietnam's Phong Nha-Ke Bang National Park. 
The highlight of the kayaking experience in the Chay River is the exploration of the Dark Cave. As you enter this mysterious cave, you'll find yourself in complete darkness, relying solely on a headlamp to navigate the labyrinthine passages. 
The Chay River and Dark Cave are not only a playground for adventure enthusiasts but also a sanctuary for biodiversity. Paddling along the meandering river, surrounded by lush greenery, you'll be captivated by the natural beauty that unfolds before you. The Chay River is known for its crystal-clear waters, which allow you to see the underwater ecosystem teeming with fish and aquatic plants.
Chay River- Quang Binh
Mekong Delta - Western Region
The Mekong Delta, often referred to as Vietnam's "rice bowl," offers a unique kayaking experience through a network of winding waterways and floating markets. This can not be missed in your kayaking destinations in Vietnam bucket list. With wonderful natural resources, the Mekong Delta provides the region's untouched beauty as you paddle through tranquil and serene energy. 
Kayaking also allows you to visit traditional villages and homestays, where you can experience the warm hospitality of the locals. Enjoy a home-cooked meal, learn about their practices and customs, and have a deeper understanding of the rich cultural heritage that defines the Mekong Delta.
For those seeking adventure, kayaking in the Mekong Delta offers opportunities for more active pursuits. You can navigate through small rapids, explore hidden caves, or even embark on multi-day kayaking trips, camping along the riverbanks and immersing yourself in the wilderness.
Mekong Delta
Phu Quoc Island
Situated off the southwestern coast of Vietnam, Phu Quoc Island beckons with its white sandy beaches and turquoise waters. Beyond its stunning beaches, the island offers kayaking adventures around its coastline and surrounding smaller islands. 
When you glide along the shimmering coastline, you'll be mesmerized by the breathtaking landscapes and the abundant marine life that call these waters home. Get ready to immerse yourself in the tranquility of nature, soak up the sun, and create unforgettable memories as you embark on an exhilarating kayaking adventure in the enchanting waters of Phu Quoc Island. Explore the vibrant coral reefs, swim in hidden bays, and witness the underwater wonders that make Phu Quoc an ideal destination for snorkeling and kayaking enthusiasts alike.
Phu Quoc island
Get Prepared And Travel To Vietnam 
Prepare for the Kayaking journey
Get ready for an extraordinary journey as you prepare to travel to Vietnam. Get prepared for an unforgettable experience as you explore the country's stunning waterways and immerse yourself in its natural beauty. Here are some tips to help you make the most of your kayaking trip in Vietnam:
Research your kayaking destinations in Vietnam: Vietnam offers a plethora of kayaking spots, from Halong Bay and Bai Tu Long Bay to the Mekong Delta and Phu Quoc Island. Research these locations to determine which one suits your preferences and skill level.

Check the weather and seasons: Vietnam experiences different weather patterns throughout the year, so be sure to check the climate of your chosen kayaking destination during your planned travel dates. This will help you pack appropriate clothing and gear.

Pack essential gear: Bring along essential kayaking gear such as a life jacket, paddle, dry bags, sunscreen, a hat, sunglasses, and a waterproof camera. It's also a good idea to have appropriate footwear that can get wet and provide grip.

Choose the right kayak: If you're not bringing your own kayak, make sure to choose a reputable rental service that offers well-maintained equipment. Select a kayak that suits your skill level and the type of water you'll be kayaking in.
With these tips in mind, you can enjoy an incredible kayaking journey in Vietnam with confidence. Get prepared, embrace the adventure, and create lifelong memories as you explore the country's enchanting waterways.
Are you curious about other Top Adventure Travel Activities In Vietnam that bring you memorable moments? So do not ignore it!
Prepare well for kayaking in Vietnam
Ready to travel to Vietnam
If you have a plan to travel to Vietnam? Don't worry and use our services at Vietnam Immigration Services, we will simplify and standardize needed documents for e-visa application, boosting the success rate of your visa. Do not forget to check your eligibility and know what document you need to prepare. By doing that, you can have your visa application experience without concerns about any difficulties. Let's obtain "a ticket to Vietnam" today, travel now, and explore the most exciting kayaking destinations in Vietnam. 
If you have questions about visa application or add-on services, please contact us for more information.
HOW CAN WE HELP?
NEED HELP 24/7
Wordwide phone support

How it works ?
APPLY WITH CONFIDENCE
Safety, Fastest, Reliable, Save Time.
Secure Online Payment.
2 Working Days Guarantee.
No Hidden Fees and No Traps.
Money Back Guarantee if Declined.